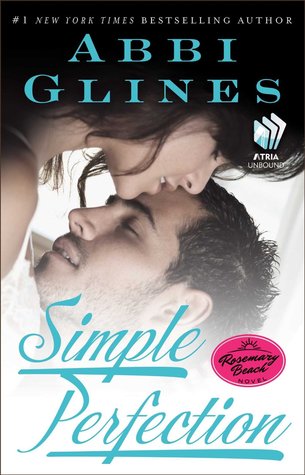 Woods had his perfect life mapped out for him. Rise up the ranks of the family business. Marry the rich girl of his parents' dreams. Pretend that wealth and privilege was all he'd ever wanted. Then a girl named Della breezed into town, a beautifully imperfect stranger who captured his heart and opened his eyes to a new kind of future. Woods is ready and willing to sacrifice everything for her when the sudden death of his father leaves him with his mother to care for and a business to manage.
Della is determined to be strong for Woods, even as she's quietly falling to pieces. No matter how far from home she's run, the ghosts of her past have never stopped haunting her. Struggling to hide her true feelings from Woods, Della fears she can't be his rock without dragging him down into the darkness with her. But is she strong enough to let go of the last thing holding her together?
Review
God, I remember not liking this book that much the first time I read it becauseI felt like Della left Woods for too long but I freaking love it the second time around. I ofcourse didin't like seeing woods so hurt but Della really needed this. I really want to aploud della's friend for doing this for her.
What is this book all about
This book starts where Twisted Perfection ended. Della continues to have night terrors and Woods is kind of smothering her. It is obvious that he loves her and that he is willing to do everything to protect her but it's not always the things we need. He needs to support her(which he does) and let Della learn how to protect herself, to heal herself. Woods can protect her all he wants, tell and show her how much he loves her all he wants, but if Della doesn't see it, doesn't feel it, doesn't feel like she's enough for him, it won't work.
Basiclly this book is about Della finding her way in life, spreads her wings and learn to love herself. She wants to be the strong one for once, not to have woods worry all the time and feeling more secure and worthy.
What did I love about this book
I love Della, god I love that woman. She is so strong and she doesn't even realize it. I'm so glad she got to see what everyone was seeing. I'm so glad she saw it in the end. And I love her and Woods together. It was an learning proces for Woods too. He wanted to safe Della to much, protect her to much. I love that about him but it wasn't what she needed.
And there sex, dear god those who have some very steamy sex.
I can't wait to see more of them in through out the next books. Next up is Grant and Harlows story.