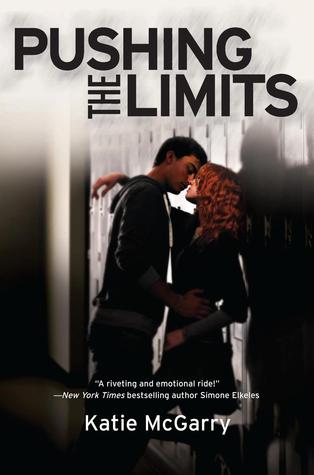 "I won't tell anyone, Echo. I promise." Noah tucked a curl behind my ear. It had been so long since someone touched me like he did. Why did it have to be Noah Hutchins? His dark brown eyes shifted to my covered arms. "You didn't do that-did you? It was done to you?" No one ever asked that question. They stared. They whispered. They laughed. But they never asked.

So wrong for each other...and yet so right.

No one knows what happened the night Echo Emerson went from popular girl with jock boyfriend to gossiped-about outsider with "freaky" scars on her arms. Even Echo can't remember the whole truth of that horrible night. All she knows is that she wants everything to go back to normal. But when Noah Hutchins, the smoking-hot, girl-using loner in the black leather jacket, explodes into her life with his tough attitude and surprising understanding, Echo's world shifts in ways she could never have imagined. They should have nothing in common. And with the secrets they both keep, being together is pretty much impossible.Yet the crazy attraction between them refuses to go away. And Echo has to ask herself just how far they can push the limits and what she'll risk for the one guy who might teach her how to love again..
Review
Love, love, loved this book so much! It is such an amazing YA book. It has great depth and character development. I've told the author this when I've met her in Apollycon this year. She talked with such passion about this group. It was amazing to talk with her about this story. She told me what with this story she wanted to tell people that things will get better, you have to get through it and fight for it. Things can be very ugly for sure but things can also be very great! And well I totally agree with her!
What is this book all about
This book is about Echo and Noah. Well stable loving homes and childhoods aren't something Echo and Noah are to familiar with. Echo was a populair girl until a horrible night changed everything. Echo is covered in scares and is very closed off after that. The one thing that makes is worse is that she doesn't remember what happend and that after that night she can't see her mother anymore. The only parent she felt truly loved her. Her father remarried her old babysitter, and has a baby on the way. He is very over protective and it annoyed the hell out of me. And the new wife comes across as overly bubbly and is trying a tad to much in my opinion.
After noah parents died in a fire he was moved from foster home to foster home. He is know as the stoner, bad guy because he punched one of his foster fathers in the face. No one knows that said father was abusing his own son and noah tried to help him. No one knows that noah wants nothing more than to get his two younger brothers back. Noah's brothers were also send to foster care and Noah can't believe that they have a good home. He is sure that it isn't what his seems.
After Noah and Echo get together for study sessions they grow closer to each other.
Can Noah and Echo overcome their own trauma's and trust and love each other. Will the truth about the night that changed everything for Echo be told and what other secrets are noah hiding? Is her right and is nothing as it seems or can somethings be just good?
What did I like about this book
I just loved this story. I love seeing characters overcome their demons, slay them and thrive. I love seeing the development and depth in characters and really get to know them.
It's a very good story. The author has a great talent. I'm sure I'll read more of her in the future!