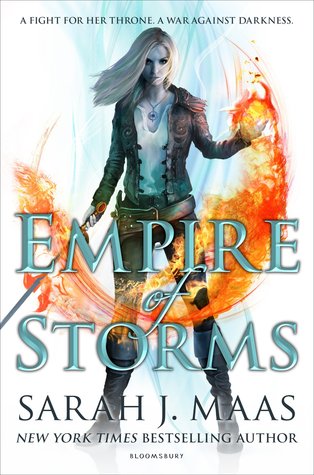 The long path to the throne has only just begun for Aelin Galathynius. Loyalties have been broken and bought, friends have been lost and gained, and those who possess magic find themselves at odds with those don't.
As the kingdoms of Erilea fracture around her, enemies must become allies if Aelin is to keep those she loves from falling to the dark forces poised to claim her world. With war looming on all horizons, the only chance for salvation lies in a desperate quest that may mark the end of everything Aelin holds dear.
Aelin's journey from assassin to queen has entranced millions across the globe, and this fifth installment will leave fans breathless. Will Aelin succeed in keeping her world from splintering, or will it all come crashing down?
Review
This book you guys, this book left me in ruins. It is so good. Even though I knew how it would end and I had some time to prepare me for it, it didn't hurt any less. It was so heart breaking to read. This is all I'll say about it so be prepare. I'm not kidding, prepare you heart, buy ice cream and whine and read that book! I don't think I've read any other book in this series as fast as I did this one.
What is this book all about
This book follows Aelin, Rowan, Manon, Dorian, Lysandra, Aedion, Lorcan and Elide on their journey. We see allot of development and many many thrilling scenes.
We see how our gang is trying to find all the wyrdkeys so that they can defeat the valg king Erawan for once and for all. But Erawan isn't the only enemy out there. There is also Meave who is scheming and waiting in the darkness. Ready to attack, destroy and take what she wants.
Will Aelin find the allies they desperately need and find a way to win this war? She might find a way,the only way it seems, but will she be able to pay the price?
what did i like about this book
Oh boy how much did i love the Rowan and Aelin scenes in this book. I'm just so happy that Aelin found someone that is her equal in every way.
I also love the friendship between lysandra and Aelin. Both of them deserve a strong and solid girly friendship. It's good for her to have a live.
I'm not sure how I feel about Manon and Dorian but as long as he's happy, then I'm find with that. I really liked Lysandra and Aedion together. I hope that they can work past there crappy past and heal together like Aelin and Rowan did.
Then there was the epic development in Elide. she is such a sweet character. It was also great to see a different side of Lorcan. I understand why he did what he did at the end of the book, pissed me off but understandable.
This book must end in a happy and good way, or else my heart won't take it. I really really hope it doesn't go in the direction I fear it's going to go.
*Note I don't own nor did I make any of the following art works. All credit goes to the people who did.
Aelin and Rowan
Aelin and Rowan
Elide and Lorcan
Lysandra and Aedion
Dorian and Manon
Chaol and Nesryn