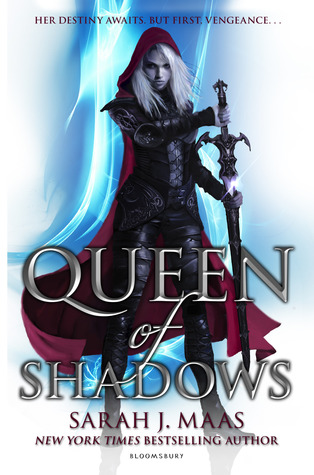 Everyone Celaena Sardothien loves has been taken from her. But she's at last returned to the empire—for vengeance, to rescue her once-glorious kingdom, and to confront the shadows of her past . . .
She will fight for her cousin, a warrior prepared to die just to see her again. She will fight for her friend, a young man trapped in an unspeakable prison. And she will fight for her people, enslaved to a brutal king and awaiting their lost queen's triumphant return.
Celaena's epic journey has captured the hearts and imaginations of millions across the globe. This fourth volume will hold readers rapt as Celaena's story builds to a passionate, agonizing crescendo that might just shatter her world.
Review
I was so worried about this book because other reviews said that this book changed allot compared to the other books. That some characters did a 180 regarding their personality etc. While some of that is true I loved it! I still think Heir of Fire is my favorite but I loved this one so much!
Regarding the 180 some characters did, it's true, but to me it was understandable. Was it sad to see at times yes, but it didn't take away from the story in my opinion.
What is this book all about
Celaena's has claimed her old name back and is not going through live as Aelin, queen of Terrassen. But she has to step back into Celaena's persona for one last time as she goes back to Adarlan like she promised. Things has changed allot while she was training with the Fae Prince Rowan. Dorian is imprisoned by a Valg prince like we saw at the ending of the last book.
Celaena has to decide if she is capable of granting Dorian mercy and killing him or if it's possible to save him.
Then there is the more then rocky relationship with Chaul. He became a angry, guilt ridden person after everything that happened, and who can blame him.
In this book we see Celaena/Aelin trying to find the third wyrdekey and free magic in Adarlan. We see her getting closer with Rowan as they both struggle with their past and attraction to each other. We see Aelin reunited with her beloved cousin Aedion. Will Celaena succeed in freeing magic and Dorian?
What did I love about this book
I love how Aelin has grown and continued to grow in this book. I love how her relationship with Rowan progressed. It was so good to see her happy and make new friends, to see her free herself from her past and really tries to live.
I loved reading more in Rowan's point of view. It was great to see how he thought about certain things.
I still haven't warmed up to Manon's point of view but I understand her role in the story better and why it was build up the way it was.
Overall I just love this series but am so scared to read on because I know how the next one will end and it will be agony to wait till the last one.