Throne of Glass (Throne of Glass #1)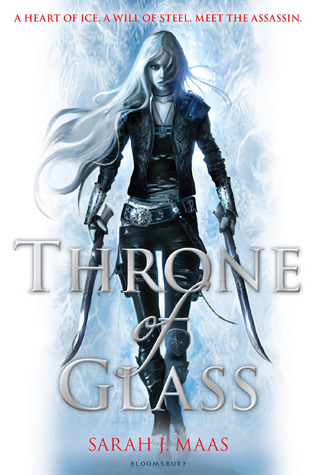 Meet Celaena Sardothien.
Beautiful. Deadly.
Destined for greatness.
In the dark, filthy salt mines of Endovier, an eighteen-year-old girl is serving a life sentence. She is a trained assassin, the best of her kind, but she made a fatal mistake. She got caught.
Young Captain Westfall offers her a deal: her freedom in return for one huge sacrifice. Celaena must represent the prince in a to-the-death tournament—fighting the most gifted thieves and assassins in the land. Live or die, Celaena will be free. Win or lose, she is about to discover her true destiny. But will her assassin's heart be melted?
Review
I have met this author before. She was at Apollycon2016. Back then I wasn't sure If I'd like her books and I end up not reading them. Sarah is coming to Apollycon2017, and again I found myself doubting if this book would be a book for me, or any other book by her for that matter. The reason I didn't really want to read it in the first place was because it's fantasy and young adult, both genre's I don't read much anymore, fantasy especially. Also I got a hint of there being a love triangle and I really dislike those. Anyway I ended up added a court of throne and roses to my to read pile, wanting to give Sarah a chance before meeting her and thinking that that book would maybe suit me more. When I was at this lovely bookshop in Kopenhagen, I saw they had all of Sarah's book. Initially I walked out of that bookshop without buying anything. I walked back in 10 minutes later wanting to buy A Court of Thrones and Roses and A Court of Mist and Fury, but I couldn't resist bringing this book as well. A friend of mine recommended this one. Back at the hotel I picked it up, started reading this book,tried to put it down a view times but picked it back up immediately. This story sucked me in and I couldn't put it down. I ended up really loving it and kicking myself in the but for not bringing the other books in this series as well.
What is this book all about
Well there is allot going on in this book so It will be very hard to tell you guys about it without spoiling thing.
Celaena is an famous 18 year old assassin. She got cought and send to Endovier, a labor death camp. One day the prince of adarlan found her and gave her a choice. She could either sit out her sentence in Endovier or compete against other thieves etc to become the Kings champion. If she won the competitions and be his champion for four years she would gain her freedom back. Celaena takes the deal and sets off to Adarlan to compete. During the competition Celaena learns that not everything in this castle and the other competitors is what it seems. Competitors are being murdered, and ripped apart right and left. Loosing a chalange isn't an option either because loosing would mean being send back to Endovier. Can Celaena survive the chalanges and avoid being killed as well? Will she be able to resist the sexy and charming prince? And will the captain of the guard learn to trust her?
What did I like about this book
I liked Celaena. She's a funny, witty and strong character. At one point I did wonder if she could live up to the reputation she has. And if she is as great als she says she is? She thinks that allot. But in the end it turned out that she is indeed pretty bad ass. The only thing I'd wish is that she let her action speak for hear instead of the author repeatedly telling us that she is indeed a bad ass (not that her actions didn't prove that, because they did)
I also really liked crown prince Dorian. He was a funny guy. I could tell that he also cared a great deal about his people and was a genuine good person. I also liked the chemistry and the banter between Celaena and Dorian.
I liked Chaol. He was the strong, reliable and calm character. His character really works well with Celaena's. He's a kind guy that stand by his morals. He has a difficult time seeing past Celaena being an assassin but he warms up to her in the end. I really liked seeing that.
I really liked princess Nehemia. She was really liked Celaena. I liked the two of them togehter, they made great friends.
Overall I did had a bit of a hard time keeping up with all the different terms and names being used but I got the hang of it in the end. This story is well written and I can't wait to read more about Celaena's journey. I really hope Chaol and especially Dorian will play a big part in that.
Crown of Midnight (Throne of Glass #2)
Crowned by Evil.
Bound by Duty.
Divided by Love.
Celaena Sardothien, royal assassin, is the King of Adarlan's deadliest weapon. She must win her freedom through his enemies' blood - but she cannot bear to kill for the crown. And every death Celaena fakes, every lie she tells, put those she loves at risk.
Torn between her two protectors - a captain and a prince - and battling a dark force far greater than the king, Celaena must decide what she will fight for: her liberty, her heart or the fate of a kingdom...
Review
I really loved this book! This series keeps getting better and better! This is the first book I've read this year. Granted I started it before new years but I finished it this year.
What is this book all about
This book Continues Celaena's story. We see how Celaena is struggling with being the King's Champion. Not only she is struggling with her feelings for Chaol and her friendship with Dorian. Then there is Nehemia who is determent to get Celaena to help her with her quest to free her people. Talk about pressure right?
In this book we find out more about Celeana, about her past and her heritage but also about the King's mysterious power.
This book is full of thrill, mystery,secrets, betrayal, hurt, love and courage.
What did I love about this book
Normally I don't like it if the female switches between love interest in a series because I get invested. Specially in Dorian, I really liked him and I'm sure he'll do great things in his live. BUT I knew that this would happen before hand so that made it easier to accept.
I really like Celaena, She went trough so much and I can tell that she is trying her hardest. I can't understand how hard it must be for her to try while being so afraid. She has lost so much so I can understand her not wanting to suffer more.
I still like Dorian. I applaud him for handling their breakup so well. It can't be easy to see the woman you think you love be with someone else, and that someone else being your best friend as well. I felt bad for him, kind of losing his friend and lover at the same time. Although he knew deep down how Chaol felt for her, it created a drift between Celeana, Chaol and Dorian.
I can't wait to read more about Celeana's story!
Heir of Fire (Throne of Glass #3)
Consumed by guilt and rage, Celaena can't bring herself to spill blood for the King of Adarlan. She must fight back...
The Immortal Queen will help her destroy the king - for a price. But as Celaena battles with her darkest memories and her heart breaks for a love that could never last, can she fulfil the bargain and head the almighty court of Terrasen? And who will stand with her?
Review
This book would have been one of my favorite's regarding Celaena's point of view, Dorian's and Chaul's point of view if it wouldn't include a new characters, manon, point of view as well. I understand that Manon might be a important character in the new books but I didn't care for her much. She reminded me a bit of celaena in the first book, where it felt like just allot of talk to me. While Celaena proved to me that she was as good as she says she is, manon didn't in my opinion. That being said I just loved it! I loved how Celaena grew throughout this book. How she struggled but pushed trough.
What is this book all about
This book picks up immediately where the last one left. Chaul bargained his freedom to get Celaena out of the country, and send her unknowingly to the kingdom of her aunt.
We see Celaena struggle with all the hurt and lost she suffered. She felt worthless, broken, and just empty. We see Dorian struggling with the knowledge that he has magic that he can't control. We see Chaul struggling with where his loyalty's lie, struggling with the knowledge what Celaena is, and what to do.
Like I said above, there are allot of different point of views in this book.
We also meet and get to know new characters like Aedion, Celaena's cousin and general for the king, Rowan, a fae prince and warrior, and many more.
This book will reveal more about the king's power and Celaena might find a way to end it all, if the king doesn't make things worse while she is away....
What did I love about this book
I really loved Celaena's point of view. I just loved how real it all felt. Ofcourse it's not fun for her to struggle with all that she has been through. But i loved that there was no magic fix, that she was 'better' withing a view pages. I loved seeing her with Rowan. I really hope that their relationship will go the way I want it to go. I can't see Celaena with yet another man haha.
I also love how Dorian is becoming stronger and more sure of himself.
And boy oh boy do I like Aedion. He's a very interesting character!
Queen of Shadows (Throne of Glass #4)
Everyone Celaena Sardothien loves has been taken from her. But she's at last returned to the empire—for vengeance, to rescue her once-glorious kingdom, and to confront the shadows of her past . . .
She will fight for her cousin, a warrior prepared to die just to see her again. She will fight for her friend, a young man trapped in an unspeakable prison. And she will fight for her people, enslaved to a brutal king and awaiting their lost queen's triumphant return.
Celaena's epic journey has captured the hearts and imaginations of millions across the globe. This fourth volume will hold readers rapt as Celaena's story builds to a passionate, agonizing crescendo that might just shatter her world.





Review
I was so worried about this book because other reviews said that this book changed allot compared to the other books. That some characters did a 180 regarding their personality etc. While some of that is true I loved it! I still think Heir of Fire is my favorite but I loved this one so much!
Regarding the 180 some characters did, it's true, but to me it was understandable. Was it sad to see at times yes, but it didn't take away from the story in my opinion.
What is this book all about
Celaena's has claimed her old name back and is not going through live as Aelin, queen of Terrassen. But she has to step back into Celaena's persona for one last time as she goes back to Adarlan like she promised. Things has changed allot while she was training with the Fae Prince Rowan. Dorian is imprisoned by a Valg prince like we saw at the ending of the last book.
Celaena has to decide if she is capable of granting Dorian mercy and killing him or if it's possible to save him.
Then there is the more then rocky relationship with Chaul. He became a angry, guilt ridden person after everything that happened, and who can blame him.
In this book we see Celaena/Aelin trying to find the third wyrdekey and free magic in Adarlan. We see her getting closer with Rowan as they both struggle with their past and attraction to each other. We see Aelin reunited with her beloved cousin Aedion. Will Celaena succeed in freeing magic and Dorian?

What did I love about this book
I love how Aelin has grown and continued to grow in this book. I love how her relationship with Rowan progressed. It was so good to see her happy and make new friends, to see her free herself from her past and really tries to live.
I loved reading more in Rowan's point of view. It was great to see how he thought about certain things.
I still haven't warmed up to Manon's point of view but I understand her role in the story better and why it was build up the way it was.
Overall I just love this series but am so scared to read on because I know how the next one will end and it will be agony to wait till the last one.
The Characters (so far)
Celaena Sardothien
Aelin ashryver galathynius
Rowan Whitethorn
D
orian Havilliard
Chaol Westfall
A
edion Ashryver
Lysandra
Manon Blackbeak
Nesryn Faliq
Note: Credit goes to the creator/artists of the photo's. I didn't make them, just put them together in a collage.
Empire of Storms (Throne of Glass #5)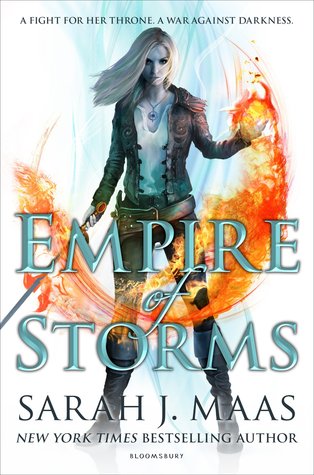 The long path to the throne has only just begun for Aelin Galathynius. Loyalties have been broken and bought, friends have been lost and gained, and those who possess magic find themselves at odds with those don't.
As the kingdoms of Erilea fracture around her, enemies must become allies if Aelin is to keep those she loves from falling to the dark forces poised to claim her world. With war looming on all horizons, the only chance for salvation lies in a desperate quest that may mark the end of everything Aelin holds dear.
Aelin's journey from assassin to queen has entranced millions across the globe, and this fifth installment will leave fans breathless. Will Aelin succeed in keeping her world from splintering, or will it all come crashing down?
Review
This book you guys, this book left me in ruins. It is so good. Even though I knew how it would end and I had some time to prepare me for it, it didn't hurt any less. It was so heart breaking to read. This is all I'll say about it so be prepare. I'm not kidding, prepare you heart, buy ice cream and whine and read that book! I don't think I've read any other book in this series as fast as I did this one.
What is this book all about
This book follows Aelin, Rowan, Manon, Dorian, Lysandra, Aedion, Lorcan and Elide on their journey. We see allot of development and many many thrilling scenes.
We see how our gang is trying to find all the wyrdkeys so that they can defeat the valg king Erawan for once and for all. But Erawan isn't the only enemy out there. There is also Meave who is scheming and waiting in the darkness. Ready to attack, destroy and take what she wants.
Will Aelin find the allies they desperately need and find a way to win this war? She might find a way,the only way it seems, but will she be able to pay the price?
what did i like about this book
Oh boy how much did i love the Rowan and Aelin scenes in this book. I'm just so happy that Aelin found someone that is her equal in every way.
I also love the friendship between lysandra and Aelin. Both of them deserve a strong and solid girly friendship. It's good for her to have a live.
I'm not sure how I feel about Manon and Dorian but as long as he's happy, then I'm find with that. I really liked Lysandra and Aedion together. I hope that they can work past there crappy past and heal together like Aelin and Rowan did.
Then there was the epic development in Elide. she is such a sweet character. It was also great to see a different side of Lorcan. I understand why he did what he did at the end of the book, pissed me off but understandable.
This book must end in a happy and good way, or else my heart won't take it. I really really hope it doesn't go in the direction I fear it's going to go.
*Note I don't own nor did I make any of the following art works. All credit goes to the people who did.
Elide
Lorcan
Aelin and Rowan
Aelin and Rowan
Elide and Lorcan
Lysandra and Aedion
Dorian and Manon
Chaol and Nesryn