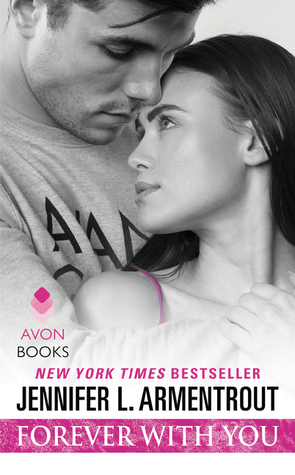 Some things you just believe in, even if you've never experienced them. For Stephanie, that list includes love. It's out there. Somewhere. Eventually. Meanwhile she's got her job at the mixed martial arts training center and hot flings with gorgeous, temporary guys like Nick. Then a secret brings them closer, opening Steph's eyes to a future she never knew she wanted—until tragedy rips it away.
Nick's self-assured surface shields a past no one needs to know about. His mind-blowing connection with Steph changes all that. As fast as he's knocking down the walls that have kept him commitment-free, she's building them up again, determined to keep the hurt—and Nick—out. But he can't walk away. Not when she's the only one who's ever made him wish for forever . . .
Review
How much do I love Jen's book. Like so danm much. Each one is so amazing and even though this is the fifth book in the series. She still made it feel like something new. I didn't know how she would write this story. It could be just like the others but she really put a twist to it. I haven't read a book like this before. And while writing the book from a different angle she still kept the other characters in it, and gave it the same feel the entire series has.

What is this book about
Well this book focuses on Steph (Stephanie). We met Steph for the first time in Wait for you. She is the girl that has a friends with benefit relationship with Cam. We also see her in Be with me when she helped Theresa after she found her roommate dead. But after that not so much.
So steph moves across the country so that she can work for a martial arts company. We know that Steph is far from being insecure about her sexual reverences. Some may call her a whore or a slut but I don't feel like that. She is just a down to earth girl that likes sex.
While moving into her new apartment she meets Nick. He helped her move a box after almost dropping it when trying to carry to much. At a bar ( the same bar that Jax owns in stay with me ;) ) she sees nick again and the have a one night stand.
After a view days after the one night stand, Steph goes back to mona's ( the bar ) and meets Roxy. After Nick sees her he kind of troughs a fit. He is telling her that she can't be here, that they had an agreement. That he thought it would be a one time thing etc. Of course Steph doesn't like this and tears him a new one. After that they kind of become friends of sorts. Only they will find out that there a small complication of sorts that will tie their futures together in a way they might not be ready for.

What did I love about this book.
I like Steph. I like how comfortable and confident she is in her own skin. I like her take one life and the way she lives. She is a strong girl.
I like nick but he can be a bit on an asshole. At least that what it seems in the beginning. Through out the story we learn that he is a sweet, caring and amazing guy. Who will do anything for the ones he loves.
I liked seeing the other characters throughout this book. I like seeing Jax and calla a bit in this book. Also liked seeing Avery and the crew a view times. I loved seeing Roxie more and ofcourse Katie. Katie is the extravagant stripper, who is just hilarious. I liked how Roxie and Katie welcomed Steph into town. And how their friendship developed. I also really loved how Nick's character changed throughout this book. He is such an amazing guy.
All the characters so far :D
Wait for you #5
Wait for you #1 and 1,5
Wait for you #2
Wait for you #3
Wait for you #4