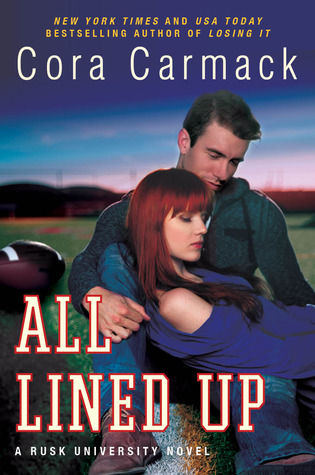 In Texas, two things are cherished above all else—football and gossip. My life has always been ruled by both.
Dallas Cole loathes football. That's what happens when you spend your whole childhood coming in second to a sport. College is her time to step out of the bleachers, and put the playing field (and the players) in her past.
But life doesn't always go as planned. As if going to the same college as her football star ex wasn't bad enough, her father, a Texas high school coaching phenom, has decided to make the jump to college ball… as the new head coach at Rusk University. Dallas finds herself in the shadows of her father and football all over again.
Carson McClain is determined to go from second-string quarterback to the starting line-up. He needs the scholarship and the future that football provides. But when a beautiful redhead literally falls into his life, his focus is more than tested. It's obliterated.
Dallas doesn't know Carson is on the team. Carson doesn't know that Dallas is his new coach's daughter.
And neither of them know how to walk away from the attraction they feel.
review
I liked it. It was a cute and sweet story. Carson was really cute and it's was quite sad to see him
doubt
himself so much sometimes.
I liked Dallas as well. It was good to see her development during the story. She changed, in a good way.
There is one thing I don't like at all and that is the cover
What is this story about
Well this story Dallas who is in her first year of collage. Her mom left when she was very young so she grew up with only her dad. Her dad is a football coach. Dallas hates football because she felt that her father put football before her. Her ex-boyfriend was also a football player. He broke up with her soon after they had sex for the first time. He is quite an asshole.
Dallas loves to dance but her father doesn't think it is a good career choice for her so he kept her from trying out for real, major dance programs.
Dallas is in her first year of collage, and her father is the football coach there. Dallas doesn't want anybody to know that her father is the football coach. She wants, for one in her life, to keep a low profile and not having everybody know that she is the football coach's daughter.
Well Dallas meets Carson at a party and they hit it off immediately. They start to hang out more but then Dallas finds out that Carson is part of the football team. She doesn't want anything to do with him but she also likes him.
After some time she decide that she does want to be with him but she doesn't want anybody knowing that they are.
They experience there up and downs but in the end they make it threw.
What did I like about this story
It is sweet and simple. Yes it is a bit of a standard story but it was a really easy read.
I adored Carson he was so sweet and cute and he is just a very nice and amazing guy. I really loved him. So so cute.
I didn't really understood why Dallas didn't want anybody to know that she was together with Carson but oke.