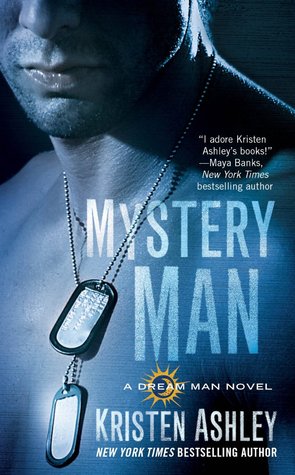 Gwendolyn Kidd has met the man of her dreams. He's hot, he's sexy, and what started as a no-names-exchanged night of passion has blossomed into a year and a half-long pleasure fest. Sure, it's a little strange that he only appears in her bed at night, but Gwen is so sure he's the one, she just can't turn him away...
Hawk Delgado knows more about Gwen than she could ever imagine. She's gorgeous, headstrong, and skittish about relationships. But Hawk is facing his own demons, demons that keep him from connecting with anyone. Yet when Gwen is drawn into Denver's lethal underground scene, Hawk's protective nature comes out full force. The problem is, when Gwen gets a dose of Hawk's Alpha attitude in the daylight, she's not so sure he's the one anymore...
Review
This was the first book I've ever read by Kristen Ashley and I really liked it. This woman really knows how to write an real alpha man. My god, the man takes protective to a whole new level. The characters where going back and forth like nobody's business. I could feel the testosteron coming of the pages. I liked it but it was also a bit too much for me at times. I don't think I could just take that kind of protectiveness and domineering behavior.
What is this book all about
Where to begin where to begin. There was so much going on in this book, so many characters. It found it hard to keep track at some point. I'm going to give it a go and try to tell you guys what this book is all about.
Gwen is a editor, a good one at that. She is a good person, her sister on the other hand has gone so far of the path that I'm not sure she even remembers there was a path. After her sisters gets into trouble jet again she goes to the motorcycle club an try to help her out again. But gwens sisters owes so much money and is in such big trouble that gwen can't help her anymore. But by showing up there with massive lady balls she drew some attention of the guys there.
Gwen has been having the most amazing sex with a guy for some time, only thing is she doesn't know his name. She met him once, had a one night stand and he kept coming back for more sex. So he gets into her bedroom at night, they screw each others brains out and he leaves again.
One night her house gets broken into because whatever trouble he sister is in caused people to come after her. Anyhow that and the attention she drew at the mc draws her mystery man out. He shows up, claiming that Gwen is his girl and he isn't going anywhere. Knowing hawk, the mystery's mans name, isn't making things any less mysterious for gwen. Oh no, the mans secrets have secrets. Gwen is not sure she wants to get involved in that only Hawk isn't letting her walk away either and to be honest Gwen isn't totally sure she wants to walk away either.
What did I like about this book
I liked the banter and the chemistry Gwen and Hawk had. I liked the thrill and mystery that was going on. It made me not wanting to put the book down. But there was allot going on and I had a hard time keeping track sometimes. Especially with the amount of characters that where in this book.
I also got a bit frustrated with gwen and hawk sometimes. They were so impulsive, explosive and stubborn sometimes. Overall it was a great read. I thing I just have to read it again sometimes to get a good grasp of the story and the characters.