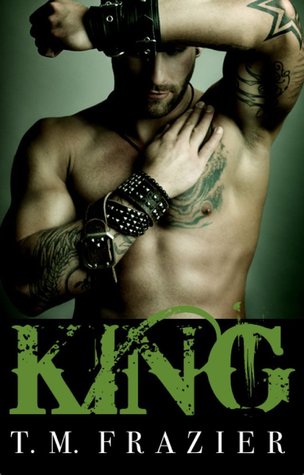 Homeless. Hungry. Desperate.
Doe has no memories of who she is or where she comes from.
A notorious career criminal just released from prison, King is someone you don't want to cross unless you're prepared to pay him back in blood, sweat, pu$$y or a combination of all three.
King's future hangs in the balance. Doe's is written in her past. When they come crashing together, they will have to learn that sometimes in order to hold on, you have to first let go.
Review
This book has been recommended to me allot. This author is coming to the Four Brits Book Fest in June so I knew I'd read it eventually. I'm so happy that I did. This book is amazing. I'm glad that I have the collectors edition of this book that includes King and Tyrant in one paperback otherwise I might have pulled my hair out with this cliffhanger if I couldn't read Tyrant straight after that.
What is this book about
This book focuses on Doe. Doe has amnesia she doesn't know who she is, where she came from, how old she is etc. She does know that living on the street with her hooker friend is very though. She is close to starving to death. She grows so desperate that she and her friend nikki fiend them self at a biker party trying to whore herself out to a biker for food and protection.
This is where she meets King. King isn't the fairy tale, good kind of king. No he is a career criminal and he likes it that way. He is rough, dangerous, tattooed, and just a big bad ass. He is as handsome as he is ruthless.
King tries to get rid of Doe many times but as often as he tried to get rid of her he also goes after her to take her back. As he said to doe before she is his.
As doe is trying to cope with her memorie loss and being scared of starting a new life that the old her might not approve of she can't help but to be attracted to King. She needs to start living her live.
What did I love about this book
I loved the characters. It was great to learn more about Doe as she learns about herself. On of the great things about this book is that you should live the live you want and don't care about what others think or want for you. You and only you are responsible for your own life and happiness so go get it.
I also love the side characters Preppy, and bear. Preppy was such a weird charmer but don't let his smiley attitude and personality fool you, he is as though as they come. He might be making pancakes one minute and slice a mans throat the next. And then there is bear he sure isn't the cuddly one but also kind of is underneath the layers of bad ass biker. He has a good heart and is loyal to a fault. He would do anything for the person he considered family. After all blood doesn't always make you family. Sometimes the family you choose is better than the one you're blood related to.
I. Remember. Everything.
Only now I wish I didn't.
When the fog is sucked away from my mind like smoke through a vacuum, the truth that has been beyond my reach for months finally reveals itself.
But the relief I thought I would feel never comes, and I'm more afraid now than I was the morning I woke up handcuffed in King's bed.
Because with the truth comes dark secrets I was never meant to know.
I will put the lives of those I love most at risk if I let on that my memory has returned, or if I seek help from the heavily tattooed felon who owns me body and soul.
I don't know if I'm strong enough to resist the magnetic pull toward King that grows stronger every day.
He's already saved me in more ways than one. Now it's my turn to do whatever it takes to save him.
Even if that means marrying someone else...
Review
My oh my what a book was this. I'm so glad I got to read it immediately after King.
What is this book all about
This book starts right where King left us with that massive cliffhanger. I was so confused by that ending and wanted to know what the hall was going on. I wanted to know where this story was going. I wanted King to get his head out of his ass and go after Doe and give her a choice darn it. I understnad why he did what he did but that doesn't mean I like it.
In this book Doe learns more about who she is and who her family is. She learns now more than ever that blood doesn't make you family. I'm glad that she got her memory back, for her sake of mind. Not that I wanted her to suffer through those memories again and suffer because of them but if she didn't she wouldn't feel whole again.
What did I love about this book.
I still love the characters very much. I love the thrill, action and mystery of this book. I had to put it down several times to get a breather. I had to walk away for a view minutes and calm myself down before I could continue reading.
I love how Doe and King's story turned out in the end. Can't wait to read bear's story. He deserves a happy ending after all e went through.