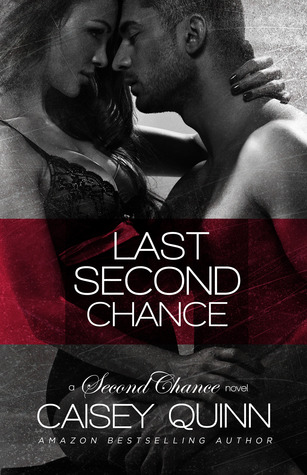 When Stella Jo Chandler gets an offer to work at the Second Chance Ranch celebrity rehab facility right after graduating from Texas A&M, she's tempted to turn it down. She wants to help real people with real problems, not spoiled celebrities going on vacation for publicity. But growing up on her family's ranch left her with a love of horses that draws her to the opportunity. How bad can babysitting a bunch of strung out celebrities be?

What she didn't count on was being roped into a tangled mess with infamous rocker and three-time rehab drop out Van Ransom on her first day. And she sure didn't expect to feel the overwhelming attraction that pulls her to the man who has more issues than she can count on both hands. Like the hotel rooms and tour buses he's famous for trashing, the havoc he could wreak on Stella's heart would be irreparable.

Van isn't at Second Chance for publicity or because he's suffering from "exhaustion". He's on the brink of destruction, and he needs the kind of help Stella isn't sure she can give. But without her, he'll lose everything. Because he's on his last second chance.
Review
I loved this book! It was so sexy and hot! I mean who doesn't like a kinky rock start! I know the man has problems but still I liked him. Most of all I really liked him with Stella.
What is this book about?
This book is about Rock start Van and student Stella Jo. After graduating Stella doesn't know what she's going to do. Go back home to parents she isn't sure who love her of go work. She gets the chance to work for a rehab facility and she takes is. What she didn't realize that the Second Chance Ranch was for celebrity rehab.
One her first day Stella meets Van, she doesn't know who he is but she is attracted to him. Stella knows she isn't allowed to date patients and she tries to stay away but Van isn't having any of that. He wants Stella and he always gets what he wants.
In this book we find out if Van is willing to take his second chance and Stella finds out why her parents, especially her father, dislikes her so much.
Stella also finds her self back, the person she lost after her horse riding accident and Van finds a new reason for living. Both are trying to find a way to deal with there past and move with their future
What did I like about this book?
I liked that this book was about redemption and second chances. Everybody deserves a second change but not everybody takes that chance. Van is trying.
I liked the chemistry between Van and Stella. And who knew that Stella is so kinky!
I liked this story but I didn't love it because I felt like the relationship and feelings of love developed to fast for my liking. Over all the plot was oke, I liked it. I was a bit confused sometimes. I had to re-read some pages to figure out what was going on. If I missed something.
I really enjoyed this book and If your looking for a fast , easy and enjoyable read, this is a book for you.