hii guys
I haven't been posting for a while. I was really busy finishing my bachelor degree in nursing, which I now finished! I have been reading but I didn't have much time to write reviews. So in this post I'll write short review for the books I've read the last couple of weeks. The reviews will be short. I'll just focus on what I think of the story.
Pound of flesh by Sophie Jackson
Their love is forbidden. But won't be denied... Can true love heal the deepest scars?
For Kat Lane, teaching inmates at a New York prison is her way of upholding the legacy of her beloved father, murdered fifteen years ago. But when new student Wes Carter walks into her classroom, she's shaken by the strength of her attraction to him. Carter is as handsome as he is dangerous, as mysterious as he is quick-witted - and he ensures people keep their distance. Yet vibrant Kat bypasses his defences and challenges him to reveal the real man behind the intimidating reputation. As their emotional barriers crumble, their inescapable but forbidden feelings cannot be ignored. But will Kat's discovery of Carter's role on the night her father died force them apart...or bind their hearts for ever?
A Pound of Flesh is a tale of loyalty, redemption and all-consuming love against the odds, introducing an irresistible bad boy hero..
Review
I really like this book. It was a good story. The characters where very likable and they developed throughout the story. I really like carter the main male characters. He was such a good guy with a hard shell, and very hot. I do love a bad boy haha. For me this story shows that people aren't always like you think they are. There is more than meets the eye and sometimes people need a second chance. People are capable of changing. Well changing isn't the best word but becoming who they really are deep down suits this story more.
I was suppose to meet this author at FBBF in june but she pulled out. I hope to meet her at RARE next week in Edinburgh and get my book signed.
Priest by Sierra Simone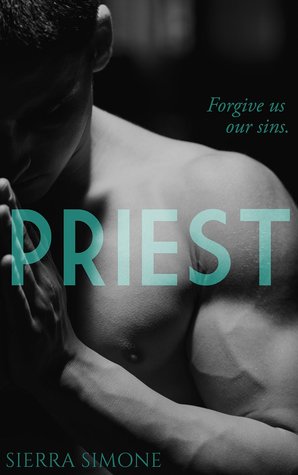 There are many rules a priest can't break.
A priest cannot marry. A priest cannot abandon his flock. A priest cannot forsake his God.
I've always been good at following rules.
Until she came.
My name is Tyler Anselm Bell. I'm twenty-nine years old. Six months ago, I broke my vow of celibacy on the altar of my own church, and God help me, I would do it again.
I am a priest and this is my confession.
Review.
My god this book was dirty! Father Bell you are a very very dirty man, my god. I loved it! I understand that this book isn't for everyone. I can even understand that if you are religious you might not like this book. I myself am not religious and this book didn't rub me in the wrong way at all. I mean it's just fiction, just a story, it isn't real. For me it was a enjoyable and very hot read. I'm so happy I got to meet this author and got my book signed!
The fall up by Aly Martinez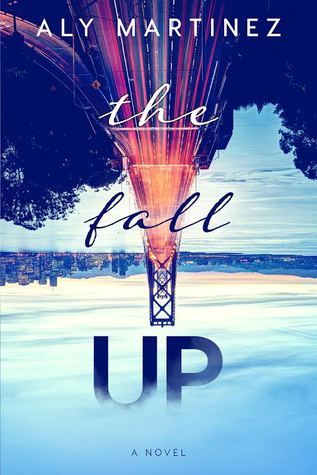 I wanted to jump.
He made me fall.
As a celebrity, I lived in the public eye, but somewhere along the way, I'd lost myself in the spotlight.
Until he found me.
Sam Rivers was a gorgeous, tattooed stranger who saved my life with nothing more than a simple conversation.
But we were both standing on that bridge for a reason the night we met. The secrets of our pasts brought us together—and then tore us apart.
Could we find a reason to hold on as life constantly pulled us down?
Or maybe there's only one direction to go when two people fall in love at rock bottom—up.
Review
This was such a great story. I really loved it. The characters where amazing. And the
development
of the characters and the story was amazing. While the story
dealt
with some heavy subjects it was still funny and easy to read without taking away the seriousness of said topics.
Because I loved this book so much I bought the second one, which is a M/M romance. MY first M/M romance ever!
This author is such sweetheart and her husband was so funny. I really enjoyed meeting them at FBBF in June.
Fear me by B.B Reid
I don't believe in fairy tales and Prince Charming.
I believe in fear.
He taught me how to be afraid.
We first met on a playground on a wonderful summer day. It was the first time he hurt me and it wouldn't be the last. For ten years, he's been my tormentor and I've been his forbidden. But then he went away, and yet I was still afraid.
Now he's back and wants more than just my tears. You see...he thinks I sent him away so now he wants revenge...and he knows just how to get it.
Review
Such an exciting story. It really felt like something new. There was so much going on. The story really dragged you in an refuse to let you guy. Yes I got annoyed with the characters some times but that didn't stop me from reading it. It made me want to read on. I was so intrigued by this book. After it ended I just had to read on. I had to know how the story continued.
Fear you by B.B. Reid
What happens when she's had enough?
Lake Monroe has given in to her childhood tormentor too many times. She knows it, he knows it, and even their enemies know it. When he returned after being found guilty of a crime he didn't commit—a crime he thought she set him up for, he returned darker than ever, demanding her body and her submission. To survive him, she knew she had to give in to fear once more or suffer the deadly consequences...
But Lake experienced what it was like to submit to the dark and demanding boy who invaded her dreams. Now she'll experience what it's like to fight him.
What happens when he wants more?
Keiran Masters has a past that is both shocking and dark. Once enslaved, he now has demons he can't escape—demons that have followed him for ten years, demons he blames his beautiful obsession for. He promised to make her pay. He promised to make her break...
But after Keiran had conquered her body and tasted her submission, he found a new addiction instead—one he has no intention of giving up.
As secrets unfold,
Identities are revealed,
Danger closes in,
And they both discover what it really means to fear...
Review
OMG, how much do I just love Keiran. Just allot. Let me tell you, I always had a thing for "broken" characters. To me , they way they grow, is just amazing to read about and ofcourse who can say no to a sexy bad boy ;). Anyway I got so annoyed with lake sometimes! okey allot actually. It this was a real situation, which it is for her ofcourse, I don't know what I would have done but I didn't feel like she did it for all the right reasons. I mean it seemed to me she mostly did what she did when she felt hurt. When Keiran hurt her. I mean she know, well she knows bits and pieces of what he went trough, so who can blame the guy. He tried to protect and save her, yes he was a bit of a asshole sometimes. And he got real close to the line for me but I understood where he was coming from. Lake just didn't listen sometimes. Like I said I kind of understand but darn it how frustrating it was to watch them lie to themselfs.
The Allure of Julian Lefray by R.S. Grey
From: JosephineKeller@LLDesigns.com
To: LilyNBlack@gmail.com
Subject: Justin Timberlake Nudes!
Lily, you predictable perv. I knew you'd open this email faster if I tempted you with a glimpse of JT's "PP". Well, put your pants back on and grab some bubbly because I have much better news to share.
I GOT A JOB!
As of tomorrow, I'll be the new executive assistant at Lorena Lefray Designs. I am SO excited, but there's one itty bitty problem: I won't be Lorena's assistant. I'll be working for her older brother, Julian.
I know what you're thinking-
"But Jo, what's the problem?"
Google him.
Now.
He's the man in the fitted navy suit whose face reminds you that there's hope yet for this cruel, ugly world. Keep scrolling…Do you see those dimples?
Yup.
That's the Julian Lefray I will be reporting to tomorrow morning.
Lord, help us all...
XO,
Jo
Review
This book was so funny! If you're looking for a light, easy, funny book with lots a hot and charming characters then this book it one for you. I laughed so much while reading this book. I really did. I really enjoyed reading about the characters and their interactions.
This book is really well written! My compliments to the author.
Perfectly Imperfect by Harper Sloan
Mirror, mirror … who's the fairest of them all?
I still cringe when I hear that line. A fairy tale that had girls pretending
they
were the fairest, the most beautiful, and the most entitled. A fairy tale most couldn't grow out of turned my haunted childhood memories into a living nightmare. Girls who grew up believing that pile of garbage became the meanest of all 'mean girls.'
And those mean girls were right – it was a line meant for all the beautiful people in the world – and I knew the answer would never be
me
.
The women with long legs, flat stomachs, and perfect chests.
The type of women Kane Masters gravitated toward.
Well, that's definitely not Willow Tate.
No. That will
never
be me.
Because I'm completely imperfect.
And … I hate myself.
I have no idea what Kane could possibly see in someone like
me
when he could have
them
.
Review
I loved this book. I loved it that the main female was a "plus size"girl. She was kind of my size, maybe a bit heavier. I loved how she worked out her body issues. It's a thing that is a real problem for lots of girls, me included. I liked that she got the hot handsome fit guy but maybe because of the picture media portrays now a days it felt a bit unreal to me? That might say more about my own mindset that it does about the story. And that itself is a problem also. I mean why wouldn't a "plus size"girl get the "perfect"man. It was a well written story. Very good. I really enjoyed and loved it.
Beneath this mask by Meghan March
He loves me, and he doesn't even know my real name.
The limelight that follows him could expose everything I'm hiding. But even knowing the risks, I can't force myself to stay away.
I'm going to break his heart, but mine will shatter right along with it.
Will we lose it all when I reveal what's beneath this mask?
Review
I really love this story. It got me thinking. I think everybody wears a mask sometimes. Some of us, like me do that all the time. It's scary to let the world see who you really are knowing the'll judge.
I really liked the characters. Especially Simon, the main male character. He is a good guy. Overall this was a very good read. I really enjoyed it.
Come away with me by Kristen Proby
Being confronted on the beach by a sexy stranger wasn't part of Natalie Conner's plans for a peaceful morning taking photos. And why on earth would he think she's taking pictures of him, anyway? Who is he? One thing's for sure, he's hot, and incredibly romantic, feeding Natalie's wounded soul.

Luke Williams just wants the world to give him a break, so seeing yet another camera aimed at his face has him ready to pounce on the beauty behind the lens. When he finds out she has no idea who he is, he's intrigued and more than a little tempted by her. Natalie has a body made for sex, a sassy mouth and Luke can't get enough of her, but he's not ready to tell her who he really his.

Natalie is a no nonsense girl who doesn't do well with lies and secrets. What will happen to this new relationship when she discovers what Luke's hiding?
Review
The be honest, I didn't finish this book. It really wasn't for me. I didn't feel connected to the characters. I didn't really like the main female. I just could't get into the story.
I had a great time meeting this author at FBBF. Maybe I'll try and reread it in the future.
I see you by Ker Dukey & D.H. Sidebottom
I watch you, I see you in ways no one else can, and through my lens I create a life of you for someone to dissect. I capture you in your vulnerability; that smile, your laugh, those tears. I document you and sell your secrets.

When I watch you through my lens you're mine until I pass you to the buyer. I, like most people, have a fetish for pretty things and in my job I get to be around a lot of pretty things. They pay me to watch them and capture them in a frame for many purposes, and sometimes I like my profession a little more than I should.

I took a job to capture her… I wanted to capture and keep her in more than just the image. This time I will take myself away from the lens and become the client because I cannot resist her, she reminds me too much of my first, I need to have her.

Traumatised from a vicious attack, Nina Drake finds herself shut off from the world until her neighbour brings her out of more than just her nightmares. Even after moving and changing her name, she still can't shake the feeling of being watched. The memories are so close.

And so is the shadow of the creator of them all.

Review
I just loved this book! It was so good. I feel like this would make an amazing thriller/horror movie. This book had so much thrill in it. But it also had healing, acceptance, and overcoming hardship and fear. I just loved the connection with nina and devon.
I really couldn't put the book down. It is amazing!
Six by K.I Lynn.
I had a one-night stand. It wasn't my first, but it would be my last.

A gun to the head.

A trained killer.

A deadly conspiracy.

Kidnapped and on the run, my life and death is in the hands of a sadist captor who happens to be my one-night stand. Armed with countless weapons, money, and new identities, the man I call Six drags me around the world.

The manhunt is on and Six is the next target. Can we find out who is killing off the Cleaners before they find us?

Two down, seven to go.

When it's all over he'll finish the job that dropped him into my life, and end it.
Stockholm Syndrome meets bucket list, and the question of what would you do to live before you died. The questions aren't always answered in black and white. Gray becomes the norm as my morals are tested.

Death is a tragedy, and I'll do anything to stay alive.

Are you ready for the last ride of your life? Six has a gun to your head—what would you do?

This isn't a love story.

It's a death story.
Review
It has been awhile since I read any book by K.I Lynn. I just love this book! It is such a good read. Thrilling, with lots of excitement. And ofcourse lots of steamy sexy times. The characters were great. I really felt a connection with them. They where really great characters. I'd really recommend this book!
The problem with forever by Jennifer L. Armentrout
For some people, silence is a weapon. For Mallory "Mouse" Dodge, it's a shield. Growing up, she learned that the best way to survive was to say nothing. And even though it's been four years since her nightmare ended, she's beginning to worry that the fear that holds her back will last a lifetime.

Now, after years of homeschooling with loving adoptive parents, Mallory must face a new milestone—spending her senior year at public high school. But of all the terrifying and exhilarating scenarios she's imagined, there's one she never dreamed of—that she'd run into Rider Stark, the friend and protector she hasn't seen since childhood, on her very first day.

It doesn't take long for Mallory to realize that the connection she shared with Rider never really faded. Yet the deeper their bond grows, the more it becomes apparent that she's not the only one grappling with the lingering scars from the past. And as she watches Rider's life spiral out of control, Mallory faces a choice between staying silent and speaking out—for the people she loves, the life she wants, and the truths that need to be heard
Review
Jennifer did it again. She wrote jet another great book. To me it isn't my favorite by her but I loved it non the less. It is such a great story. I really liked the characters. I felt a connection with them. The story really sucked me in. I finished it in on sitting. Well more like I spend five hours in the bathtub reading it while various family members knocked on the door asking me if I was still alive.
To me this was a great story. I would have liked a bit more details on mallory and riders past, because I am curious and kind of like disturbing things in book. Not that the information that we did get wasn't enough because it was for the story. Also I'm not that into YA lately but still this is a very good story. Enjoyed every minute of it.
Counsellor by Celia Aaron.
In the heart of Louisiana, the most powerful people in the South live behind elegant gates, mossy trees, and pleasant masks. Once every ten years, the pretense falls away and a tournament is held to determine who will rule them. The Acquisition is a crucible for the Southern nobility, a love letter written to a time when barbarism was enshrined as law.

Now, Sinclair Vinemont is in the running to claim the prize. There is only one way to win, and he has the key to do it — Stella Rousseau, his Acquisition. To save her father, Stella has agreed to become Sinclair's slave for one year. Though she is at the mercy of the cold, treacherous Vinemont, Stella will not go willingly into darkness.

As Sinclair and Stella battle against each other and the clock, only one thing is certain: The Acquisition always ends in blood.

Review
What an amazing book! I just loved it. It was thrilling and exciting. I have been saying that allot in the other reviews but I just can't help it. I haven't read many stories like this one. The only other book that it made me think of was the Indebted series by pepper winters (also a great series).
I just loved Stella. She is such a strong character! And sinclair,such a hot man. There is really way more than he wants you to see, and i can't wait to see more of it.
Magnate by Celia Aaron.
Lucius Vinemont has spirited me away to a world of sugar cane and sun. There is nothing he cannot give me on his lavish Cuban plantation. Each gift seduces me, each touch seals my fate. There is no more talk of depraved competitions or his older brother – the one who'd stolen me, claimed me, and made me feel things I never should have. Even as Lucius works to make me forget Sinclair, my thoughts stray back to him, to the dark blue eyes that haunt my sweetest dreams and bitterest nightmares. Just like every dream, this one must end. Christmas will soon be here, and with it, the second trial of the Acquisition.




Review
I just couldn't stop reading this series. I just had to know what happened next. I really feel sorry for Stella. It's really cruel how she gets treated. Those people liked the hunger games waay to much and gave it an disturbing twist for sure. Who comes up with that. At what point did someone thought "he, this is a good idea" and why the heck did other think that as well. It's just so messed up.
I can tell that Sinclair is really conflicted. I just don't fully understand why he has to win so badly. But after that last chapters I truly understood why.
Sovereign by Celia Aaron
The Acquisition has ruled my life, ruled my every waking moment since Sinclair Vinemont first showed up at my house offering an infernal bargain to save my father's life. Now I know the stakes. The charade is at an end, and Sinclair has far more to lose than I ever did.

But this knowledge hasn't strengthened me. Instead, each revelation breaks me down until nothing is left but my fight and my rage. As I struggle to survive, only one question remains. How far will I go to save those I love and burn the Acquisition to the ground?
Review
What an ending. I just can't say how much I love this series. I didn't expect to love it as much as I do. I just loved it. The characters where amazing. The way the developed and grew was great. The story line and the side characters where really well though out. I really recommend this series to anyone. You do have to be able to stomach some pretty gruesome things, dubious consent, rape, murder, and especially torture. But besides that there is love, forgiveness, grow, strength and very hot sex.

Boarded by love by Toni Aleo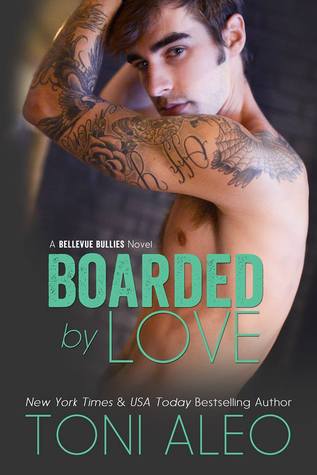 "Jude Sinclair here, hockey player for the Bellevue Bullies and lover of all ladies. Hockey's in my blood, and not to sound full of myself, but

I'm good at it...really good. The draft is within my reach—it's mine to take—but that's not the only reason people know my name. They know me because of my way with women. They know the score, and I aim to please. I just tend to stay away from repeat performances. In other words, I don't do relationships beyond my family and friends. I'm happy with life. However, I should warn you that my story and how I see it playing out is about to change due to a certain redhead on campus.

She's beautiful. Stunning. Breathtaking.

She's my game changer."

"He's trouble from the moment I see him. I don't know what I'm thinking, but from the moment I meet his gaze, I'm his. It's a scary feeling.

I've never trusted anyone outside my aunt and uncle—and even that took months. I didn't have it easy growing up. My mom was usually strung out, and she didn't give me a second thought. Drugs and the men who paid her were more important to her. It was horrible, but I'm stronger today. Because of my past, security is what I need most. Money assures me that I can take care of myself today, tomorrow, and next month. I don't want to ever be hungry or go without again, so I work hard for every penny.

Oh, by the way, I'm Claire Anderson. I'm a hard-studying sophomore at the University of Bellevue, dancer for the school dance team, and a burlesque dancer at a club, but that's my secret.
You may think you know how our story ends, but you have no clue. It's not easy falling in love… or living happily ever after. At first it may seem so, but when is anything worth having ever won without a fight?

Especially when you're boarded by love."
Review
This book was oke. I didn't really feel much for Claire, the main female character. I liked Jude, the main male character but I didn't fall in love with them.
Clair went through allot when she was growing up so I expected her to be a bit difficult sometimes. Mostly I like characters like that, and i did like claire in the beginning but by the end I just didn't feel connected to her.
The Hook Up by Kristen Callihan
The rules: no kissing on the mouth, no staying the night, no telling anyone, and above all... No falling in love

Anna Jones just wants to finish college and figure out her life. Falling for star quarterback Drew Baylor is certainly not on her to do list. Confident and charming, he lives in the limelight and is way too gorgeous for his own good. If only she could ignore his heated stares and stop thinking about doing hot and dirty things with him. Easy right?

Too bad he's committed to making her break every rule...

Football has been good to Drew. It's given him recognition, two National Championships, and the Heisman. But what he really craves is sexy yet prickly Anna Jones. Her cutting humor and blatant disregard for his fame turns him on like nothing else. But there's one problem: she's shut him down. Completely.
That is until a chance encounter leads to the hottest sex of their lives, along with the possibility of something great. Unfortunately, Anna wants it to remain a hook up. Now it's up to Drew to tempt her with more: more sex, more satisfaction, more time with him. Until she's truly hooked. It's a good thing Drew knows all about winning.
Review
I really liked this book. It was a very enjoyable read. I just loved Drew. He is such a sweetheart. I like anna but i felt like her attitude and assumptions held her back and
hurt drew and in sometimes herself as well. I understand that she was scared. I truly do. But that didn't stop me from wanting to smack her in the head sometimes.
Overall this was a really enjoyable read.
Beauty from pain by Georgia Cates
They agreed on three months...but their love knew no boundaries.
Jack McLachlan is a winemaking magnate and easily one of Australia's most eligible bachelors. His success and wealth make him no stranger to the complications of romantic relationships and that's why he goes to extreme measures to avoid the hassle. He prefers simplicity in the form of a beautiful female companion with no strings attached. He arranges relationships like business deals and they're always the same. No long term relationships. No real names.
It's his game and his rules. He's content to play as usual, but when Laurelyn Prescott enters his life, his strategy must change because this player is like none he's ever encountered. His world is turned on its head after he begins a three month affair with the beautiful American musician. Nothing goes according to plan and as he breaks more and more of his own rules for her, she's exceptionally close to becoming something he never thought possible. His ultimate game changer.
Review
I have been meaning to read this book along time ago. I actually met this author in 2014 and I planned on reading this book then but didn't get around to it. I'm so glad I read it this time. I really like it. It is a good story. I really liked the characters.
It is a new way of starting a relationship and I actually think it sets up a good start. I did feel like the book ended a bit predictable but not in the way I suspected at first.
Beauty from surrender by Georgia Cates
How do you move on when he's every song you sing?

After Laurelyn Prescott walks away from the love of her life, she returns to Nashville to pursue the only dream she has left. Determined to find a distraction from the pain of losing Jack Henry, she immerses herself in her music. But with her old life comes old acquaintances and new expectations. When Laurelyn refuses her record producer's outrageous demands, she finds herself without a career—until an unforeseen opportunity presents itself. From there it's a rocket ride straight to the top where Laurelyn finds the success she's always dreamed of. Will it be enough to bring her the happiness she so deserves, or will the absence of Jack Henry leave her wanting more?

Jack Henry McLachlan never expected to fall in love with Laurelyn Prescott—but he did. After he foolishly let her slip through his fingers, he spends three months searching for her, but their reunion doesn't come easy. The woman he finds isn't the same one who drifted away without a goodbye. No longer an insecure girl on an Australian adventure, this Laurelyn is a successful musician with a promising career. Her dreams are becoming a reality, and Jack is terrified his American girl won't have a place for him in her new life. With only a month to convince her otherwise, will it be enough time to make her visualize a life beyond the glitz and glamour, a life that includes him?
Review
I liked this book. For me this was a good way to end the series. I will read the last one in the future but I have many books I still have to read before RARE so I wont finish it now.
I felt a bit annoyed with Laurelyn sometimes. I mean she is the one that left without a word, without him being able to contact her what so ever. But she still felt horrible. If they just talked to each other before her leaving the whole thing would have turned out different. That proves that communication is very important.
I really love Jack for all he did to get Laurelyn back. He went further than most guys would have.
Overall I really enjoyed this book.
Wallbanger by Alice Clayton
The first night after Caroline moves into her fantastic new San Francisco apartment, she realizes she's gaining an intimate knowledge of her new neighbor's nocturnal adventures. Thanks to paper-thin walls and the guy's athletic prowess, she can hear not just his bed banging against the wall but the ecstatic response of what seems (as loud night after loud night goes by) like an endless parade of women. And since Caroline is currently on a self-imposed dating hiatus, and her neighbor is clearly lethally attractive to women, she finds her fantasies keep her awake even longer than the noise. So when the wallbanging threatens to literally bounce her out of bed, Caroline, clad in sexual frustration and a pink baby-doll nightie, confronts Simon Parker, her heard-but-never-seen neighbor. The tension between them is as thick as the walls are thin, and the results just as mixed. Suddenly, Caroline is finding she may have discovered a whole new definition of neighborly...
The first night after Caroline moves into her fantastic new San Francisco apartment, she realizes she's gaining an intimate knowledge of her new neighbor's nocturnal adventures. Thanks to paper-thin walls and the guy's athletic prowess, she can hear not just his bed banging against the wall but the ecstatic response of what seems (as loud night after loud night goes by) like an endless parade of women. And since Caroline is currently on a self-imposed dating hiatus, and her neighbor is clearly lethally attractive to women, she finds her fantasies keep her awake even longer than the noise. So when the wallbanging threatens to literally bounce her out of bed, Caroline, clad in sexual frustration and a pink baby-doll nightie, confronts Simon Parker, her heard-but-never-seen neighbor. The tension between them is as thick as the walls are thin, and the results just as mixed. Suddenly, Caroline is finding she may have discovered a whole new definition of neighborly...
Review
Talk about chemistry. Holy shit, there was allot of it. And the sexual tension was through the roof. I tried to read this book some time ago but couldn't really get into it. I'm glad I did this time. It was a bit on the long side for me but that didn't make it les enjoyable for me. Overall I really liked this book and it's a great story.
The Professional by Kresley Cole
He makes the rules...
Mafiya enforcer Aleksei "The Siberian" Sevastyan's loyalty to his boss knows no bounds, until he meets the boss's long-lost daughter, a curvy, feisty redhead who haunts his mind and heats his blood like no other. Ordered to protect her, Aleksei will do anything to possess her as well—on his own wicked terms.
Rules are made to be broken…
Grad student Natalie Porter had barely recovered from her first sight of the dark and breathtaking Sevastyan before the professional enforcer whisks her away to Russia, thrusting her into a world of extreme wealth and wanton pleasures. Every day under his protection leads her deeper under his masterful spell.
Are you ready to play?
Yet all is not as it seems. To remove Natalie from an enemy's reach, Sevastyan spirits her into hiding. From an opulent palace in Russia to the decadent playgrounds of the mega-wealthy in Paris, the two lovers will discover that even their darkest—and most forbidden—fantasies can come true..
Review
I really liked this book. It is a good story. I don't know what I would have done If I was Natalie but I don't think I would have 'surrendered' as easily and fast as she did. No way in hell would I just accept the word of a stranger. I would have tried to escape or demand answers before I went anywhere. Not that she went easily I know that. She tried but Sevastian was just stronger than her but still.
I really liked the BDSM past in this book. It has been a while since I read a story that has that element in it. I'm not sure if some aspects of it where to my personal liking. I mean that in the sense that I don't know if I would have done that. I guess it all comes down to personal limits. Anyway it sounded reaaaally hot.
Six of hearts by L.H. Cosway.
Step right up and meet Jay Fields: Illusionist. Mentalist. Trickster.
I think in triangles. You think in straight lines.

I show you a table and make you believe it's a chair.

Smoke and mirrors, sleight of hand, misdirection. I trick and deceive.

But most of all, I put on a good show.

The world thinks I killed a man, but I didn't. Bear with me. It's all a part of the plan.

Revenge is what I want. I want it for me and I want it for her.
I want it for all six of us.

She doesn't remember me, but she's the reason for everything. She'll be my prize at the end of all this–if I can hold onto my willpower, that is. Maybe I'll slip up a little, have a taste, just a small one.

So go ahead and pick a card. Come inside and see the show. Look at my hands, look so closely that you can't see what's happening while you're so focused on looking. I'll be destroying your world from right here in the spotlight.

You'll never see me coming until it's too late.

I've only got one heart, and after I've pulled off my grand deception I'll hand it right to her.

So, sit back, relax, and let my girl tell you our story. You're in for one hell of a ride.
Review
I just loved this book. It truly is amazing. This might be my favorite book this year so far. I just loved it. Jay is so funny, charming and sexy. And matilda is such a sweetheart. She did sound a bit young and naive sometimes but being traumatized as a child has different effects on anybody. I really loved the chemistry and interactions between Jay and Matilda.
One thing I do wish is to read, maybe this entire book, in Jay's point of view. I would love to know what he was thinking and doing throughout this story. I'm glad that it wasn't in this book because it would have taken away from the mystery and surprise.
I did see one of the plot twists coming but it certainly didn't take away from the story.
Sins & Needles by Karina Hale
Ellie Watt is used to starting over. The daughter of a grifting team, Ellie spent her childhood being used as a pawn in her parents' latest scam. Now she's much older, wiser and ready to give her con artist life a rest. But returning to the dry desert town of Palm Valley, California means one more temptation than she bargained for – Camden McQueen. Once known as the high school weirdo, Camden is bigger and badder than the boy he used to be and a talented tattoo artist with his own thriving business. Ellie's counting on Camden still being in love with her but what she's not counting on is how easily unrequited love can turn into obsession over time. When Camden discovers Ellie's plan to con him, he makes her a deal she doesn't dare refuse, but her freedom comes with a price and it's one that takes both Ellie and Camden down a dangerous road.
Review
I didn't feel much for this book. I didn't feel any connection with the caracters. They where a bit to alternative for me I guess. Not that I have anything against alternative people since I was one of them but I don't know I just didn't like Ellie. She was kind of a bitch some times. She made some very bad choices and did thinks I just don't agree with, I understand some of them. I mean she had a shitty upbringing to begin with but that doesn't justivy her own choices. She felt a bit selfish to me. She brought not only herself but others lots of trouble. I don't like wat she did to camden and I don't really like how he turned out. Both of them are very angry characters with lots of issues.
What I do like is that even though I don't really like the characters they where very intriguing. They kept me reading because I wanted to know what happened next.
Making Faces by Amy Harmon.
Ambrose Young was beautiful. He was tall and muscular, with hair that touched his shoulders and eyes that burned right through you. The kind of beautiful that graced the covers of romance novels, and Fern Taylor would know. She'd been reading them since she was thirteen. But maybe because he was so beautiful he was never someone Fern thought she could have...until he wasn't beautiful anymore.

Making Faces is the story of a small town where five young men go off to war, and only one comes back. It is the story of loss. Collective loss, individual loss, loss of beauty, loss of life, loss of identity. It is the tale of one girl's love for a broken boy, and a wounded warrior's love for an unremarkable girl. This is a story of friendship that overcomes heartache, heroism that defies the common definitions, and a modern tale of Beauty and the Beastwhere we discover that there is little beauty and a little beast in all of us.
Review
I did not finish this book. I felt really disappointing. I expected a totally different story. I expected a story about a man going to war and come back. I expected it to start with that. I wanted strong likable characters but I don't feel like I've got that.
I didn't like the writing style and sometimes the story felt confusing. The narrator would change withing chapters, which made it hard to keep track of who was talking.
Pucked by Helena Hunting
With a famous NHL player for a step-brother, Violet Hall is well acquainted with the playboy reputation many hockey stars come with. She's smart enough to steer clear of those hot, well-built boys with unparalleled stamina. That is until she meets the legendary team captain—Alex Waters.

Violet isn't interested in his pretty, beat-up face, or his rock-hard six-pack abs. But when Alex inadvertently obliterates Violet's previous misapprehension regarding the inferior intellect of hockey players, he becomes more than just a hot body with a face to match.

In what can only be considered a complete lapse in judgment, Violet finds out just how good Alex is with the hockey stick in his pants. But what starts out as a one-night stand, quickly turns into something more. Post-night of orgasmic magic, Alex starts to call, and text, and e-mail and send extravagant—and quirky—gifts, making him difficult to ignore, and even more difficult not to like.

The problem is, the media portrays Alex as a total player, and Violet doesn't want to be part of the game.
Review
I'm not sure what to think of this book. I totally love Alex. He is such a sweet guy. I didn't feel much for Violet in the beginning but I've grown to really dislike her throughout this book. She was reaaaly judgy, made quick assumptions and not give the other person any chance of explaining, she was faul mouthed ( which I like to and extend but because I've grown to dislike her I didn't find it funny anymore). I really didn't like Violet's mother. How inappropriate was she. Talk about disregarding personal space and boundaries.
I also didn't like the over use of the work cock. Violet was obsessed with Alex's cock. And almost no page, went without her thinking, talking about it. It was way to much in my opinion. It made me think that that was all she cared about.
Cruel and Beautiful by
Terri E. Laine
&
A.M. Hargrove
Cate Forbes , a dedicated college student with a carefully plotted future, doesn't
know the first thing about love. When she accepts a blind date with a rumored tasty piece of eye candy, she thinks she can get by with a night of fun. Cate's plans quickly unravel when she gets one look at the sexy…

Drew McKnight.

The relentless hockey-playing medical resident knows what he wants— a career in Oncology and Cate. Although he's heard the gorgeous brunette is a little relationship skittish, a single night out isn't what he has in mind. Determined to have her — in every way possible— he shows her just what a future with him would hold.

Only life has other plans. The unthinkable happens and everything begins to shatter. Both in too deep, they will have to fight the cruel and hang onto the beautiful.
Review
My god what a beautiful story. It was so heart breakingly beautiful. I ugly cried so hard in the end. It all started out a bit confusing for me in the beginning because of that prologue. I just loved this book. Thinking about it makes me want to cry again.
I just can't say how much I love this book. I really broke my heart in a good and bad way. I really don't know what to say but if you're going to read this make sure you have tissues and icecream ready. You'll need it.
This story is full of love, growing and it's just real. Nobody's live is only beautiful. Live is unfair, cruel and ugly sometimes. It's how we deal with those times is what makes us into who we are. I just loved it.