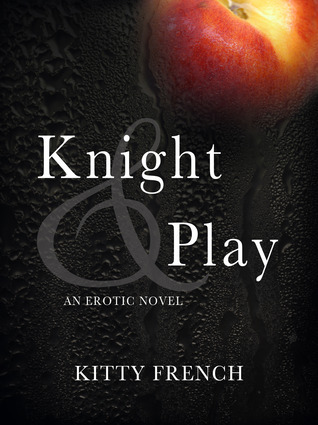 There's only one thing in life Lucien Knight really hates, and that's husbands who cheat on their wives.
There's only one problem in Sophie Black's life. Her cheating husband...
From the moment Lucien & Sophie meet, the seal is set.
Romantic, emotional & intensely erotic,
Knight and Play
is the perfect read for lovers of international bestsellers
Fifty Shades
&
Bared To You
. Let yourself be swept away by Part One of the Knight series from Kitty French, a romance so hot it'll burn your fingers...
CEO of Knight Inc. Lucien Knight is catch-your-breath gorgeous and damaged by his troubled past in Norway. All grown up and relocated to London, he's built his empire of adult clubs from the ground up to become the gorgeous patron saint of the sex industry. No one knows the dark childhood secrets that have given Lucien a backbone of steel and a heart encased in ice. No one until Sophie Black, that is...
From the moment girl-next-door Sophie accepts the job as Lucien Knight's PA, she understands how Alice must have felt when she tumbled down the rabbit hole. Lucien takes her safe, vanilla life away and plunges her head first into a huge dish of fantasy flavours. Rich, spicy chocolate covered with dark, oozingly lickable sauce? Check. Tutti-frutti with indecently red, glistening cherries on the top? Yes please.
Lucien strips away all of Sophie's inhibitions, and when he instructs her to select three new toys, she soon realises he has more than a game of Monopoly on his mind...
He's opened the door to a whole new pleasure packed world without limits, and Sophie is utterly intoxicated. But how far is she willing to go? And what happens when she has to step back into reality again?
Lucien & Sophie's is a story of star crossed love and forbidden passion, a sexual odyssey that spans the globe and changes both of their lives forever. Let it change yours, too.
Review
I really loved it. It was really steamy. I know it should bother me that Sophie is also cheating on Dan with Lucien because Dan is having an affair. She should have divorced him and than be with Lucien but I think she wouldn't divorce him because she would have forgiven him. She wouldn't have known what it was like to be desired the way Lucien wants her. She wouldn't have know how good it can feel and she wouldn't be strong and true to herself. Dan deserves it but I thing that this was a good order of events for sophie. It might not been "right'but it works out for her.
So to start from the beginning, what is this story about?
The story is about Sophie. She is married to Dan, her college sweetheart but the marriage slacked into a slumber without love and desire. She finds her life boring and wants to do something about it. She goes to an job interview for a PA job. But it isn't just a regular PA job for a regular company. No it's for Lucien Knight who owns several adult clubs. Lucien is, and I quote is a viking sex god. Very handsome, very confident and really charming. He knows what he wants and he stops at nothing to get what he want. And he wants to help sophie. He wants to make her feel desired, he want to make her feel sexy, he wants to show her that it's oke to let go.
Lucien makes it his mission to show Sophie what sex can feel like and boy does she find out. Even tho sophie feels guilty she enjoyed being with lucien. Feeling lucien everywhere.
The book is mostly in Sophie's point of view. Sometimes it's Lucien. And we get a view glances in Dan's head.
In the beginning of the book dan is on a "business trip" and at the end of the book he comes home with his tail between legs. But he doesn't take into account how much his wife grew a pair.
What did I love about this book.
I loved how lucien made sophie feel. Like it's oke to let go and enjoy life. The here and now philosophy. I liked his confident and how comfortable he is in his own skin. But I do feel like he is cutting himself short. He has some family problems and I don't think he has really dealt with it. He says he doesn't do love or connections but I think he is just afraid to lose some one he loves. So he says he just doesn't love. But I think Sophie will prove him wrong. I really really hope she does. They are awesome together.
Al tho I don't approve of cheating, while reading the story, it didn't feel like cheating to me. Because Dan was never there in the first place so I didn't have a connection with him and he was just a dick.