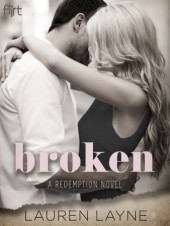 When Olivia Middleton abandons the glamour of Park Avenue for a remote, coastal town in Maine, everyone assumes she's being the kind do-gooder she's always been. But Olivia has a secret: helping an injured war veteran reenter society isn't about charity—it's about penance. Only, Olivia's client isn't the grateful elderly man she's expecting. Instead, he's a brooding twenty-four-year-old who has no intention of being Olivia's path to redemption . . . and whose smoldering gaze and forbidden touch might be her undoing.

Paul Langdon doesn't need a mirror to show him he's no longer the hotshot quarterback he was before the war. He knows he's ugly—inside and out. He'll do anything to stay in self-imposed exile, even accept his father's ultimatum that Paul tolerate the newest caretaker for three months or lose his inheritance. But Paul doesn't count on the beautiful twenty-two-year-old who makes him long for things that he can never have. And the more she slips past his defenses, the more keeping his distance is impossible.

Now Paul and Olivia have to decide: Will they help each other heal? Or are they forever broken?
REVIEW
I really enjoyed this story. I really loved Paul is changing threw out this story. And I really liked Olivia, she is a very strong and funny person.
What is this story about.
The story is about Olivia and Paul. Olivia comes from a very rich family. Olivia is in collage studying so that she can work in her fathers company, all tho she's doing good in collage, it isn't what she wants to do.
She decides to take some time off from collage and signed up to take care of a war veteran. She wants to get as far away from her parents house and just life her live a little.
Paul has been threw allot during his deployment in Afghanistan. His father is doing whatever he can to take care of paul but the thing is Paul doesn't really want to be saved. He just wants to live in silence and just be left alone. He has chased off allot of nurses/ caretakers and he is willing to chase away the new one if it wasn't for the deal he made with his father. His new caretaker has to stay for four months, if not he will take away paul's trust fond
Paul has scares on his face, a bad leg and is a grumpy person, but even his hart can't resist sexy, funny and sweet Olivia, who is very determent to take care of Paul and deal with her own guilt.
Olivia was suspecting some old nice war veteran, she didn't think she had to take care of sexy, intense, brooding paul, who she is very very attracted to.
What did I love about this story.
I loved Paul and I really wanted to get to know him. His story was interesting and I really felt for him. He really was suffering from his PTSD and survivors guilt was keeping him from living.
I loved how Olivia was going whatever she could to help Paul and she was really persistent and funny doing it.
I really liked the side characters. They all really cared about Paul, even his father. I didn't think he actually cared but he was doing the best he could. I also think it would be hard for pauls father to see his son like that.
I also really liked the ending, the way truly want to make it on there own.
This book is about redemption and letting go of your past, and truly live your live the way you want to. Paul and Olivia where really good for each other.