Fall With me by J.Lynn ( Wait for you #4)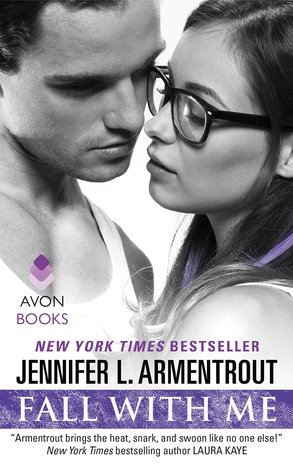 Eleven months ago, bartender and weird-shirt-wearing extraordinaire Roxy and Officer Reece Anders had a one night stand. Well, kind of. She's been in love with him since she was fifteen, and he wishes that night they shared never happened. She's sworn him off forever, but the past and future collide, forcing her to rely on the one man who broke her heart not once, but twice.
Her best friend since birth has been in a long-term care facility since he became a victim of a hate crime years ago, and the person who put him in there is out of prison and wanting to make amends with him and Roxy. She's not sure she has room for forgiveness in her and when she begins to receive frightening messages and is on the receiving end of escalating violence, she thinks she knows who is to blame. The man who already destroyed one life already.
But Reece isn't convinced. The threats are too personal, and even if Roxy doesn't believe him, he's not willing to let anyone hurt her. Including himself. He's already messed up more than once when it comes to Roxy and he's not going to let history repeat itself
REVIEW
I just finished this book in one sitting, well not a sitting because I was laying in the bathtub but I couldn't put it away, not even when my mother called me for dinner, I just couldn't stop. I took me nearly 5 hours to finish. So my hands and feet are all wrinkled now.
What is this book about.
This book is about Roxy, Roxy works at Mona's ( Calla's mother old bar, that is now owned by Jax) and she loves painting. Roxy is flirty, sassy, and very funny. Some of the words she used where just hilarious. She is also taking online classes to become a graphic designer. And the shirts she wears are just awesome. On of my favorite was "I'm a special snowflake". I really laughed out loud when I read it and then I was like I really need this shirt. Around five or six years ago Roxy's best friend charlie got a victim of a crime which caused major brain damage. Roxy is seeing him every week on Friday but her friend just isn't there anymore. That and the guilt she is harboring from the incident is making Roxy very scared to lose someone and that makes her scared to fall for someone, especially Reece because she know can take her heart but also because she can loose him due his line of work.
Reece, what to tell you about Reece. Reece is a former marine that is a police officer. He and Roxy where kind of childhood friend and Roxy has been in love with him for a long time. Even tho she doesn't admit it. Eleven months ago she kind of hocked up with Reece and they have not really spoken ever since. She didn't expect Reece to step up and tell her he misses her and wants to move one. You see, Reece doesn't remember a thing about that night eleven months ago, only waking up and Roxie being there and regretting not remember being with her. Which Roxy mistook for Reece regretting being with her not regretting not remembering. Any how they start to work on there relationship but it isn't as easy. Strange things are happening in town, there is some serial rapist/ women attacker on the loose. Roxy is starting to notice strange things happening in her apartment. Things movie, dishwasher being turned on, thinking she is seeing someone outside ect. Working threw both there past and dealing with threat's in the present doesn't withhold Reece from being with Roxy.
Threw out
the book you get to see Cam and Avery, Tess and Jace, Olly and Brit and of course Calla and Jax.
What did I love about this book
I loved Reece, he was so protecting and patient with Roxy. He also was very very sexy and very intense, like pantie melting intense. Reece was very very ripped, amazing abs, blue eyes ( can't remember his hair color tho) and he was tall. As hot and sexy he is, his caring nature is the best thing he has.
I loved Roxy, she was very strong, witty, very funny and I would love the have her as a friend. I also loved seeing the old gang threw out the books. Roxy has brown hair with a different color streak in it, I believe she also has blue or grey kind of eyes and she is very beautiful. But I think her personality is the most beautiful thing about her.
I also liked that this book, just liked the previous book, contained more thrill, while keeping the original feelings this series has.
I also liked Katie the stripper/ psychic . She is a very nice side character and she is very funny. Not sure If we can expect a book for her but I'd read it.
I also can't wait to read more about Nick and Stephanie. I think I'm going to like nick allot.
There were some new side characters, like a gay couple Jacob and Marcus. I especially liked Jacob, any guy who introduces himself like this "Hi i'm jacob. I go to collage at Shepard, I'm a Gemini. I'm allergic to game of thrones because I can't keep track of who dies on the show. If you talk shit about doctor who, we cannot be friends, and I still want a goddamn pony and no one will let me buy one. Which Tessa replied on with no grown up wants a pony. Then Roxie said: "I want a lama". I was laughing out loud when I read that. I kept thinking I like these people so much. I want my own cam, Avery, Tessa, Jace, calla, Jax, Brit, Olly, Roxie, Reece and Jacob.
Reece
Roxie