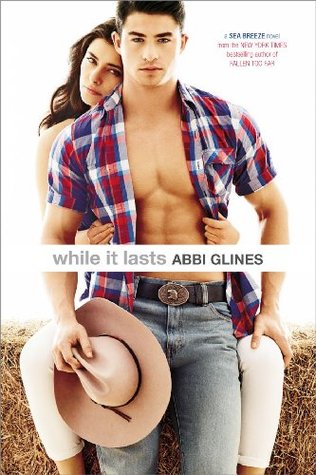 Low broke Cage's heart by getting with Marcus in Because of Low. Cage went into a tailspin that ended in a DUI. In order to salvage his baseball scholarship—the one thing he truly valued besides Low—Cage must take a summer job. At a farm. Away from Sea Breeze. With lots of cows, but no hot girls. Maybe that's what Cage needs to get back on track.
But wait—there's that hostile daughter of the farm boss. She's pretty and occasionally sweet, and there seems to be a lot of sadness and mystery behind her anger. Cage is dying to strip her down—physically and mentally—in the back of the barn. But is he prepared for what will happen afterward?
REVIEW.
First of, I'm very excited for the movie, and I'm happy for Abbi that one of her books is becoming a movie :D.
What it this book about.
Cage, playboy extraordinaire, had his heart broken when the girl he loved fell in love with someone else. After getting a DUI, he got a summer job at a farm, far away from Sea Breeze. He didn't expect a hot farmer's daughter to become a distraction. He also didn't think she'd be such a daddy's girl. And her father made it pretty clear that he doesn't want Cage anywhere near his daughter Eva. That doesn't stop the attraction they have. Eva is still recovering from a broken hart, and she is scared to give Cage her heart. But that doesn't stop Eva and Cage to grow closer together. So will eva say no to the very sexy city boy and will cage win this farm girls heart?
What did I like about this book.
I really liked it, I liked how Cage was so dedicated to Eva, he threw his old ways out of the window and really fell in love with her. It was really nice to read about.
I liked eva, alto I do think she was a bit judgmental in the beginning, just because a guy is handsome as hell, that doesn't mean he is going to be a dick to you.
I really enjoyed the few time Cage and Eva got some alone time, if you get what I mean.
I really liked them being together.
I really hated it when eva 'dumped'Cage just because Josh his mother said that Cage wasn't good enough for her and that she deserved someone better. I mean how can you find someone better that the one that makes you laugh, happy and makes you feel loved, and someone that loves you.
I really disliked eva's father, because he treated eva like a fragile little girl that needed protection from the handsome bad boy. I mean the way that he chased Cage away from eva just because he thinks Cage isn't good enough for his little daughter. The only one that is good enough apparently is dead so that won't work out either.
I loved the moment that Eva told her father to stick his 'judgement' in a place where the sun never shines and that she packed up her stuff and moved in with Cage.
Well she didn't tell him that exactly but that what I thought of it.
Overall I thought this book was one of the better ones in this series.